about us
KOSMOS Ministries recognizes this is a broken world. Too many people are poor, distressed, underprivileged, hungry, homeless and marginalized by society. We see them and it compels us to service. We seek to serve the last, the least, and the lost.
The ministry of Kosmos is both an intentional and holistic approach. Kosmos empowers and equips local Nicaraguan Ministries so that those in need around them can be best served. Through partnerships with Christ centered churches and individuals, regardless of denominational affiliation, our ministry projects focus on nutrition, health and teaching initiatives for the extremely impoverished.
We believe the message of the gospel involves both the good news of Christ and meeting the physical needs of those suffering from poverty, illness, and whatever marginalizes people and separates them from God and society. It is our mission to serve others in both word and deed.
Kosmos also realizes each community has different needs and resources. We work with these communities and churches to develop strategies to empower and equip them, as opposed to implementing what we, as outsiders, think is appropriate.
Kosmos is a non-profit corporation and an IRS approved public charity. Operating as a 501(c)3 organization, Kosmos Ministries is an interdenominational Christian ministry that serves the poor of Nicaragua while, at the same time, being the presence of Christ to communities of need. We seek to unite various people and churches by demonstrating servanthood and displaying God's love for all people. We strive to understand what God is doing then join Him in this Kingdom work.
testimonials
From Amber Burgess, who has served with Kosmos in Nicaragua on multiple occasions...

"My experiences in Nicaragua have been nothing but amazing. Every time I have gone I have been blessed by the people there. They welcome you with open arms and their hospitality is unbelievable. These trips to Nicaragua have helped my relationship with Christ grow incredibly. Experiencing the way they live there, and the living conditions made me realize just how "rich" Americans are. It makes me appreciate all that I am blessed with and I thank God for allowing me to go to Nicaragua."
From Scotty Davis, a Minister and operator of Mission Team Inc.a, serving across the Globe.

"The Bible says "Little children, let us not love with word or with tongue, but in deed and truth."1 John 3:18 (NASB77) I think that this truth is what is behind the work of Kosmos Ministries. Matt and Ashley Guthas are both my brother and sister in Christ, co laborers on the mission field and dear friends. I have had the privilege to be on three short term mission projects with them. I was privileged to be with each separately and on a trip they lead together. I have see the verse in John unfold before me on each of the projects as their love is what motivates them to the action of mission work. Both are extremely talented and creative and totally committed to the spreading of the Gospel. I would recommend them to churches and groups who need a place to serve that they will be well prepared and capable leaders for your next mission project."
From Ray Abner, Team Leader and Kosmos Veteran.

"Perhaps there are those seeking to 'fill a void'... God is good like that - to place something in our lives that's just right for us and ultimately for our continued growth toward Him! My last four years involvement with Kosmos, and the peoples being served through them, have changed my life. Kosmos presents a great environment to learn the culture of a foreign people. But so much more than that, a mission with Kosmos puts one in a place to speak to those straining to hear the soft, sweet music that only Christ can provide. Through the sweat of hard work, tireless service, constant prayer and a sincere love, all directed towards those living in extreme poverty, the servants of God participating in a Kosmos mission truly have every opportunity to 'do it with the strength God provides, so that in all things God may be praised through Jesus Christ.'"
the meaning of kosmos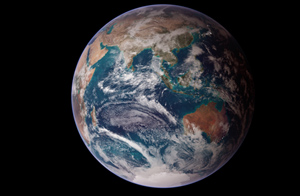 Kosmos is the Greek word for "world" often used the New Testament
Therefore, "world ministries" is not an effort for our organization to have a global presence. On the contrary, our name says something about the character of God's love for all people throughout the world, not just here at home.
Unlike in the United States, poverty and oppression dominate the fabric of society in many smaller countries. Many of those countries lack the social support structures available in the United States. Since we see a great need there, we are called to serve where we can.
Kosmos seeks to emphasize the greatness of God's love, in all its breadth and depth, a great love for the whole of humanity. The love God has shown to us,through Christ, is the same love and grace people should show to those of other races, languages, backgrounds, social status, etc. Given that God's love for the "kosmos" was so great (see John 3:16 and 1 John 2:2), Kosmos Ministries seeks to spread that love through joining with God in His mission for the world. Kosmos Ministries serves others in this manner, seeking to be agents of restoration and reconciliation (see 2 Corinthians 5:18-20).
our founders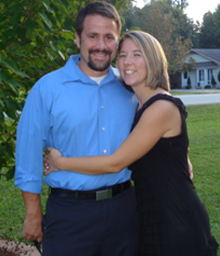 Matt & Ashley Guthas
Kosmos Ministries was created in 2007 to further the ministry to the poor in Nicaragua. God willing, Kosmos hopes to grow an effective Christian ministry for the people of Nicaragua. We want to meet the practical needs of those we serve, as well as spiritual ones. Matt and Ashley were married in November 2007. Ashley has years of experience in youth ministry and missions. Matt is a law enforcement officer/criminal investigator. Matt obtained a Masters in Divinity from Mercer University, Atlanta Georgia, in December 2010.